...and summer in Karlsborg!

A journey through Swedish

history
Welcome aboard M/S Sandön. Join us on a journey through Swedish history and see what Göta Canal has to offer. We pass through magical forest, lakes and farmlands. Our ship was built in 1910 and is the oldest Göta Kanal day trip vessel.

A tour with us is not only a transport but a convivial experience for both young and old. We have preserve the old atmosphere that only a really old ship has but with comfort and functionality in mind.

Christian Fridell


Captain



Choose a date for your trip:
Rent a room in central Karlsborg!
When it comes to
conferences,
staff parties
, weddings,
birthdays,
business meetings
, association
excursions
and so on
,
a boat trip
is an excellent choice
.
Our Ship
are available
to charter
all year (
with
regards to weather
and
timetable
).
Minimum
time
are 2 hours.
M/S Sandön
M/S Sandön was built in 1910 in Gothenburg and on board you find a convivial atmosphere. Even in cold weather, the ship is warm an cheerful. The ship is suited for wheelchairs, we have a full equipped restaurant kitchen and 130 restaurant seats. Contact us for suggestions on cruises. Our chef will help you compose a delicious menu.

Price: 4200kr/hour (plus Göta Kanal toll)
Min. time: 2 hours
Number of restaurant seats: 120st

Week 24-33 (June,12 to August,18 - 2018 )
No timetable June, 21 to June, 25
Tuesday
Karlsborg-Töreboda
10.00-14.30
Wednesday
Töreboda-Karlsborg
10.00-14.30
Thursday

Karlsborg-Vassbacken***

Vassbacken-Karlsborg

10.00-15.00

14.00-17.30

Friday

The ship is open all evening with entertainment (only July)

17.30-01.00
Saturday


Karlsborg-Viken-Karlsborg**

Eveningtrip with entertainment* 30/6 , 14/7, 28/7, 11/8


11.00-15.00

19.00-23.00
*Evening tour including a buffé and entertainment - 520 :-
Saturday 30/6 , 14/7 , 28/7 and 11/8.
We sail thru the lock in Forsvik up to lake Viken and pass thru the most beautiful parts of Göta kanal we serve evening buffet and we have an entertainer onboard .
We depart Saturdays behind the restaurant "Ida's brygga" in Karlsborg at 19:00 and are back at 23:00

** The Saturdaytour 11.00-15.00 . This trip is the same as the eveningtrip .
*** The tours on Thursday 10.00-13.30 &14.00-17.30 is passing throw the same areas as the saturdaytrip but instead of turning back to Karlsborg we cross lake Viken and travel in to the digged parts of the channel and the trip ends in Vassbacken ,the tour in the afternoon is the same but in the opposite direction
OBS!!!! The OBS!! The connection to the tour on thursday afternoon is before the boatrrip and leaves Öltappens parkingplace 12.45 . The bus is for free and you pay the ticket for the boattrip when you come onboard the ship .


Prices:
Adult
Children (6-12years)

Karlsborg-Töreboda or revers

Karlsborg-Vassbacken or revers

Karlsborg-Lake Viken-Karlsborg

500:-

480:-

480:-

250:-

240:-

240:-

Children 0-6 travels for free (max 2/adult)

Bike

or

bicycle trailer

70:-
70:-

Lunch, drinks, bread & coffee
Saturday&Thursday
Lunch

180:-

480:-
180:-

80:-

240:-
80:-




Bus connections available on every tour (Tuesday Wednesday & Thursday OBS!! The connection to the tour on thursday afternoon is before the boatrrip and leaves Öltappens parkingplace 12.45


Free!


Free!



Cancellation Policy:




Cancellation

made ​​30

days before departure

without charge.

30-14

days 50%

charge

.

Thereafter

the full fee

.

Other:
The ship is

suited for wheelchairs,

we

have a full

equipped

restaurant kitchen

and 120

restaurant

seats.


Booking and

information

-

Tel

. +46 (

0)70-2145254 or +46(0)70-7358513





It is also possible

to book

on our website.You pay your tickets when you come onboard

Printer-friendly version of the timetable.
Karlsborg

In Karlsborg M/S Sandön departure near the canal bridge.
Parking is plentiful at "Öltappen" 200m north of the canal.
Töreboda

In Töreboda M/S Sandön departure from the canal behind the railway station.
Do you have any questions?
Don't hesitate to call or e-mail us!
Phone +46 (0)70-21 45 254
E-mail : bokning@mssandon.se
Postal address:
Sandön rederi AB
Västra vägen 5
546 31 Karlsborg
Sweden
Göta Canal is Sweden's largest construction project ever made. On April 12, 1810 Baltzar von Platen got permission to start building the canal from Mem on the east coast to Sjötorp next to lake Vänern. Baltzar von Platen died three years before the canal was opened in Mem year 1832.

Göta Canal is 190.5 km long and the difference in level is 91.8 meters. The highest point at the canal is lake Viken where M/S Sandön travels. Overall, the canal has 58 sluice. The sluice with the greatest level difference is in Forsvik where also Sweden's oldest iron bridge (inaugurated in 1813) still can be seen next to the sluice. The sluice at the canal with the lowest level difference is in Tåtorp. This lock opens and closes with manpower and the level difference is usually around 30cm. Both Forsviks and Tåtorp sluice we pass on the M/S Sandön as we travel between Karlsborg and Töreboda.
Read more about Göta Canal on wikipedia or visit Göta Kanalbolagets webpage.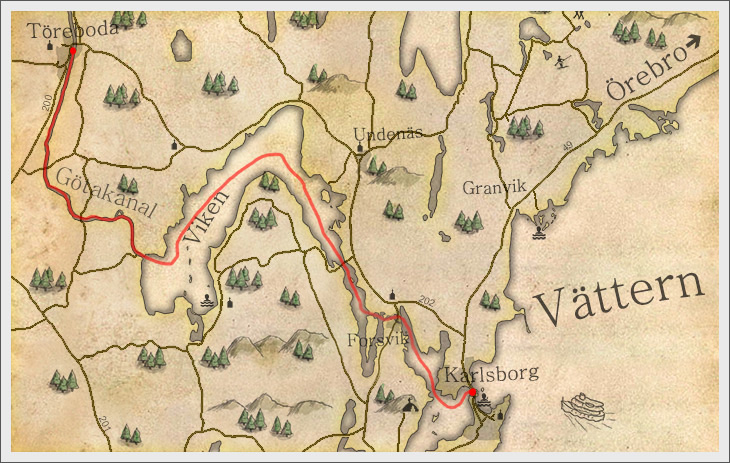 Göta Canal
Karlsborg - Töreboda